3 Tips to Develop Your Sales Follow Up Process Using AI and Automation
If you're in sales, chances are you already know the importance of following up with potential customers. What you might not realize is that your business needs a sales follow up process to succeed. A sales follow up process will help ensure that no lead goes unaddressed, and your team can focus on building relationships with prospective customers. Let's explore how a well-executed sales follow up process can benefit your small business and how you can develop one today.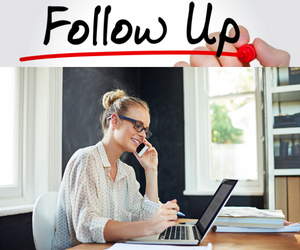 What Is a Sales Follow Up Process?
A sales follow up process is a step-by-step formula or system for following up with prospective customers after initial contact. It should include everything from setting goals to creating emails, calls, and more to keep in touch with prospects and build relationships over time. It should also include tactics for tracking progress and measuring success. This will help you determine which ways of following up work best, so you can change and improve your process as needed.
3 Tips to Develop Your Sales Follow Up Process
1. Set Clear Goals – Every successful strategy begins with clear objectives, so make sure that your goals for the sales follow up process are clearly defined and agreed upon by everyone involved. Whether it's reaching out to new leads or staying in touch with existing ones, make sure that everyone knows what their responsibilities are and how they should go about executing them.
2. Use Automation Tools – Email marketing software MailerLite can be incredibly helpful in developing a successful sales follow up process, as they make it easier to track progress, segment prospects into lists, schedule emails, etc. Utilizing automation features will also free up valuable time that would otherwise be spent manually entering data or sending emails/follow ups one by one—time that could be better used elsewhere in the organization, such as developing new products or services or growing the customer base even further!
3. Consider AI tools and software – As technology progresses, more businesses are beginning to utilize artificial intelligence (AI) technologies such as chatbots and writing tools to automate parts of their sales processes—including the follow-up stage! AI capabilities allow these technologies to understand natural language, which makes them perfect for personalizing conversations based on individual customer needs and preferences—resulting in more successful interactions overall! Jasper AI is one of the best artificial intelligence writing tools to add to your toolkit when it comes to producing sales follow-up emails or other written content for your business.
What to Include in Your Sales Follow Up Email
Following up on sales leads is an essential part of reaching out to potential customers and closing sales. A sales follow up email is a great way to maintain contact while allowing you the flexibility to communicate with many people simultaneously. When crafting an effective sales follow-up email, you must consider who you're addressing, what approach you should use, and how much detail is enough.
At its core, your sales follow up email should be personalized and sincere; this gives your readers faith that their needs are being taken seriously and are being acted upon. Finally, when appropriate, close your message by including a clear call to action that directs them toward the next step they should take. This gives your sales outreach both context and momentum. With strategic and effective use of sales follow up emails, you can increase your chances of successful sales outcomes.
Start Your Sales Follow Up Process Today!
Developing a solid sales follow up process is essential if you want your small business to succeed long term. By having clear goals, using automation tools, and thinking about AI, you can make a good system for following up with potential customers that will save you time and money and increase conversion rates simultaneously. With the right strategies in place now, your business will be well-positioned for future growth opportunities down the line!
And don't forget to visit our blog for more sales tips to help you close more deals, increase sales, and make more money.